After a couple of hot weeks here in SoCal, I was looking forward to the start of fall. Cooler temps, a light breeze here and there, but still nice, sunny days was on my radar until the wonderful ridge of high pressure that just SAT ON ITS ASS over SoCal. It seemed that Monday's weather was just the start of pleasantness and things were going along swimmingly until today where we're back in the 90s. BOOO!!!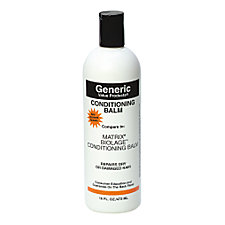 Today I broke out a new conditioner, GVP conditioning balm, and styled with curl junkie's coffee coco curl creme and jason hi shine gel on top for hold. GVP conditioning balm was pretty impressive. It didn't take much and my hair felt silky soft and slippery. This is quite a difference fromNexxus' Nectaress conditioner. I've been alternating between Nectaress and Nature's Gate chamomile and lemon verbena conditioner for about 3 weeks now and while both have been doing the job tolerably well, using GVP for the first time was like a breath of fresh air. Of the two, however, I'd opt for NG any day. While it does contain the protein I'm most susceptible to (wheat), my hair doesn't freak out right off the bat. In fact, I can use this for up to two weeks before protein sensitivity starts to rear its ugly head. I plan on adding it to my protein-boost conditioners along with its other NG buddies – asian pear and rose geranium. Nectaress on the other hand, is a bit too light for my tastes – even in the summer, and the scent doesn't make it anymore endearing. I'm a fan of foodie scents and this perfumy, floral/fruity fragrance just wasn't cutting it.
All seemed well and good in the land of hair until I flipped over to scrunch in CJ's coffee coco curl creme (sans raking and adding water). This is the fourth time I've tried the revamped CJ CCCC and I don't think my hair cares for it. The ingredients look great with the oils, but the proteins are my downfall. The minute my creme-slathered hands touch my waves, it's as if the strands freak out and try to run away, leading to frizz and flyaways.
I suppose I didn't help things much by topping CCCC with Jason hi shine styling gel, another protein containing product. The gel was thick and a bit sticky enough to lead me to think that it just might be a good hard-holding gel. After scrunching in generous amounts, I had the feeling that it may just go down the path of kiss my face's upper management gel; the consistency is substantial enough to dupe me into thinking it will work, but once applied, it just melts into my hair leaving me wondering if I used anything at all.
I can't wait for temps to drop below 80.