Today I lugged out the KCKT and KCCC combo. For definite hold, I grabbed the Sally's Beyond the Zone Spike It gel that is supposed to be a Biosilk Rock Hard Gelee knockoff. I applied a nickel's worth of leave-in and scrunched in 3 quarters worth of KCCC – side to side and then flipped over. While still flipped over, I scrunched in a dime's worth of the spike it. The fragrance of the gel didn't compete with the yummy marshmallow scent of KCCC. It does have protein (ingreds: Water, PVP, Glycerin, Acrylates/Steareth-20 Itaconate Copolymer, Panthenol, Hydrolyzed Wheat Protein, Hydrolyzed Wheat Starch, Polysorbate 20, Propylene Glycol, Triethanolamine, Diazolidinyl Urea, Methylparaben, Disodium EDTA, Fragrance, Limonene) but my hair actually doesn't feel too dry. There is a little bit of frizz, but not horribly so. My waves look super chunky and defined and overall it reaffirms my love for KCKT and KCCC.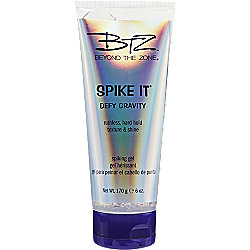 The gel did dry extremely crunchy. For the amount I used, I was surprised by the intense crunchiness.  By the time I got to work, my hair was so stiff that I felt like scrunching the crunch –  a mere 2 hours after fixing my hair. Definitely a first!
I scrunched with Oyin burnt sugar pomade (about 2 half dime sized blobs).
Photos were taken with my little nokia. Not the greatest, I know.