I pretty much gave up on tigi mm. The last horrible hair day I had was the clincher for me; crimped, stringy, frizzy hair repelling itself is not a good look for me. My hair felt hard, parched, and completely suffocated by the chemically laden tigi mm.
Luckily I knew where all my hair goodies boxes were so I pulled out Curls Curl Ecstacy Asian Hair Tea Conditioner (Ingreds: Purified Water, Cetyl Alcohol, Octyl Palmitrate, Behentrimonum Methosulfate, Certified Organic Aloe Barbadensis Leaf Juice, Stearamidopropyl Dimethylamine, Propylene Glycol, Cetearyl Alcohol, Cetearth-20, Certified Organic Ho Shu Wu Extract, Certified Organic Green Tea Extract, Certified Organic Chamomile Extract, Certified Organic Calendula Extract, Mango Butter, Shea Butter, Panthenol, Soy Protein, Citric Acid, Quaternium-15 – definitely more natural ingreds than tigi mm!)

The minute I put some on my hair, I could tell a difference. The asian tea is definitely thicker than your average conditioner; it has the consistency of Sheam and its scent, while not pineapple jolly rancher-ish like tigi mm, is nice and mellow. Tuesday I used my km bay rum bar, an acv rinse, curls asian tea, cj coffee coco, and gvp pm extra body gel. The result was a decent amount of clumping and while my hair still repelled itself, it wasn't as bad as Monday's hot mess. Yesterday I used creme of nature shampoo (the original red lettering bottle), curls asian tea, cj coffee coco, and gvp pm extra body. My hair was still better but the effects of tigi mm are definitely lingering in my hair.
Today I used CON, kbb hair milk in coco lime, cj coffee coco, and gvp pm extra body and my hair is the best its been in a while. I love how CON moisturized but still cleansed my hair and with kbb hair milk my hair felt silkier than ever. I'm starting to think that in addition to being suffocated by tigi mm, my hair is starting to rebel against the protein in CJ. Hydrolyzed wheat is hidden in the middle of the ingreds list and I thought with all the other moisturizing ingredients, it would have too much of an effect on my hair, but I'm starting to think otherwise. I'll try it out with the Curls condish and CON but if my hair is still feeling wiry and brittle, I'll definitely have to give it a rest.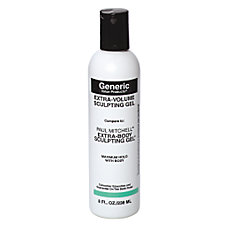 GVP PM extra body sculpting gel actually isn't too bad. It's not a keeper, but it definitely is on my "Products in a Pinch" list. It's thick, has a good amount of hold, encourages clumping, and doesn't weigh down my hair. My only gripe is that it's sometimes difficult to distribute. Today, for example, my hair would look great except for the little patch right above my right ear where there isn't any gel. I do plan on playing with it a bit more but it's pretty decent.