From http://www.naturallycurly.com/curltalk/showthread.php?t=47609&page=8
"I co-wash with a pretty natural and very cheap conditioner. It has coconut oil in it, the rest is non descript. Rinse that out and I condition with a heavier conditioner. I leave that one for about 5 minutes. There are two conditioners I like most and sometimes I mix them. One has flaxseed oil in it and the other has honey in it. Both with real simple bases – neither has protein. I pass a wide tooth comb through with the conditioner.

I quick-rinse that out and do a ACV rinse dipping my ends right into the cup of ACV-water mixture before pouring the rest on my hair. I do a super quick rinse out of that.

Then I take about 5 sprays of flaxseed oil in my palm, rub together and then pass over the dripping wet ends. I do another swoop under the shower just to keep it dripping wet.

From there I add my styling product – I want something that gives me good "slip". I am trying to find something close to CK ingredients over here. I have found about 4 different ones that work about the same. They all have hydroethylcellulose and glycerine in various degrees and some holding ingredients. In the last picture I used Biopoints modelling fluid for blondes.

I learned on a Canadian site (darned if I can find it now) that to get good clumps it helps to use a fine toothed comb. So that is what I do. Ya really need good slip and lots of product (kinda like is shown for CK on their site but more gently!). Hair is really dripping and soaked. When I comb I start with the lower back and split the clumps into smaller sections with my fingers and then throw them back out of the way. When I do the top comb sections upward I clip those as I go (focusing clipping on the upper back area because I tend to get a "great divide").

Then I scrunch in some gel. The one I used in the picture is Cliniques "strong control gel". I don't use much of this because it has such strong hold. Absolutely no raking. Then I turn upside down and swing a bit so my curls can find space and do their thing. This whole styling part takes me about 5-10 minutes to do. It gives me more control than if I just apply products after rinsing up side down.

I let the whole thing sit a bit but sometimes I lightly plop while getting dressed. Plopping tends to give me zig zags so I loosely plop with a MF turban without buttoning it which would be too tight. Then I partially diffuse upsidedown.

Air dry the rest of the way, remove clips carefully and then scrunch out the crunch.

I think what has really been helping me lately has been to do an AVC rince each time I co-wash (about 2-3 times a week) rather than every now and then. I have such hard water it seems to be necessary. And I just discovered scrunching in gel. Before I would just put it on top of the modelling fluid. I think doing that weighed down my curls. I have also be upping the oil treatments and that has really made a difference."
~~~~~~~~~~~~~~~~~~~~~~~~~~~~~~~~~~~~~~~~~~~~~~~~~~~~~~~~~~~~~~~~~~~~~~~~~~~~~~~~~~~~~~~~~~
"I apply a product that gives me good slip. That is the important part I find. I comb my hair standing upright (over the sink because the comb and sopping wet producty hair drip). I too get weird things going on if I do it upsidedown. I do however comb outwards all round and upwards (and clip before releasing) on the top. Then I scrunch in the gel. I turn upside down and swirl a bit so the clumps can find space and do their own thing. You can plop at this point if you like. Then diffuse.

When I comb (fairly big sections) I pass my free hand over the area so I get the clumping (forking my fingers through the comb width – sort of finger combing, pausing at the ends just to toss them back – this separates the clumps into smaller sizes and they stick better together). If I let the clumps get too big I get looser spirals – normally I check later to make sure none are really big, if there is one I will separate before drying. As I work I throw it back out of the way leaving my front for last."
~~~~~~~~~~~~~~~~~~~~~~~~~~~~~~~~~~~~~~~~~~~~~~~~~~~~~~~~~~~~~~~~~~~~~~~~~~~~~~~~~~~~~~
This is ZigaZaga's method from nc.com. Her curls/waves are AMAZING! It sounds like a modified Batia and Aleeza method which I used to do before (http://www.batiaandaleeza.com/batia_aleeza_mov.html). The lemming that I am, I decided to give this method a shot.
I cowashed with suave and rinsed out a bit of the devacurl one condish (for the seaweed feeling). I then applied 1 golfball of KY and ran it over my hair like you would smoothing a ponytail. I combed through with a fine tooth comb much like this: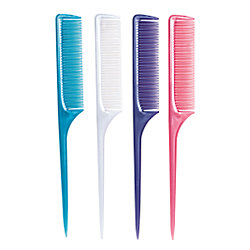 Jebus, did I get clumps! I did, however, fail to follow through with my fingers to separate the clumps. I didn't section of my hair into the undercanopy and canopy before combing, with the result that the clumps seemed to extend from the canopy to underneath – basically, each of them was an all-encompassing clump. Lastly, I squished in 2 golfballs of angell (I freaking want a room spray, deodorant, fabric softener, and perfume in this scent!!). I don't know if it was the combo of the KY and angell, or maybe both mixed with the remainder of the condish, but I definitely had some foaming action. My hair felt heavy and I was a bit nervous thinking that the weight would pull out the curl, but I plopped anyway.
15 minutes later, I took out the plop to diffuse. I was really impressed with the clumping. Usually, rogue strands like to separate while I'm squishing in product upside down, so it was an improvement to see uniform clumps all around. I separated some of the major ones and started diffusing. Clipping was much easier because I was able to choose which clump to clip. I used to have to pick the least offensive portion to clip, but because the strands were better behaved and with their friends, my hair was kind to me.
Verdict:
I can say with all honesty that angell and I can't work. There is frizz and while I ADORE the scent, the amount that I'd have to use, the less than stellar results, and the price are enough to not warrant a repurchase.
I definitely like the clumps I get from zigazaga's method. I'll have to try it out tomorrow with another gel.